Categories
Categories
C-Bear BSA30 C-Bear Road bearing for ROTOR 30mm Axles
This classic BSA Bearing from C-Bear ceramics is good enough for Lotto Soudal and with new improved race seals and lubricant is worth the upgrade at this price.
Can be used with other brands of 30mm axle if the axle length is at least 115mm, generally BB30 cranksets dont have the axle length to use in BSA cups.
Compatibility with all ROTOR 30mm axle cranks including Inpower.
All Rotor 30mm Axle Cranks.Including:
New generation Direct Mount Cranks and PowerMeters
ROAD:
Aldhu30, Vegast, 2Inpower, Inpower.

MTB:
Kapic & Kapic Carbon, 2inpower, Inpower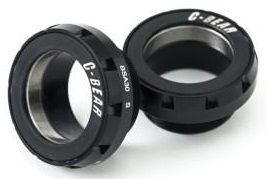 PN: BSA30-r
Requires the BSA30 Specific Spanner
We are currently out of stock, please contact us for re-stocking details
SOLD OUT